Scheduled
Dunbar >Events
Dunbar Music Festival are back for September 2021….
Bringing a weekend of marvellous music to Dunbar Battery!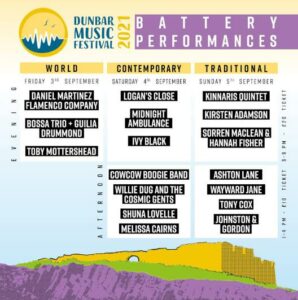 Here's some snippets from Dunbar Music Festival …….
Friday 3 September: World music
5:30-9pm
Join us on a fabulous musical journey.  From the soulful delta blues of the Southern USA, to the vibrant sound of the Copa Cabana, favellas and Carnival of Rio de Janeiro, and finally to the tablaos of Cordoba and the fiery flamenco passion of Andalucia.
Saturday 4 September: Contemporary music
1-9pm (2 sessions)
The varied programme has something for everyone,  showcasing our finest local talent alongside established acts from further afield. The day ends with a set from Dunbar's finest – the mighty Logan's Close.
Sunday 5 September: Traditional music
1-9pm (2 sessions)
Our Festival was built upon the foundations of Scottish and Irish traditional music and we continue to honour this heritage. Bringing in a range of related styles from folk to bluegrass, we're thrilled to close the Festival with one of most exciting young Scottish acts on the trad scene – the award-winning Kinnaris Quintet.
Times and prices vary.
And there is more…… Check out the Dunbar Music Festival website for free events around the town!
For full details about the 2021 event visit: Dunbar Music Festival