Scheduled
Dunbar >Events >Other
The Black Agnes Award Ceremony
Come mark the 684th anniversary of the siege of Dunbar and celebrate all things Agnes with songs, jokes and local artists.
We will also be presenting this year's winners of the Black Agnes Award with their lovely prizes!
Let's celebrate strong Dunbar women- past, present and future!
Admissions: Donation on the door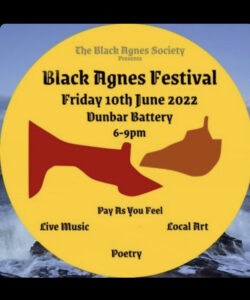 The annual award will recognise modern women from Dunbar who have made valuable contributions to the community. In memory and celebration of Black Agnes, who kept English invaders at bay for six months in 1338 while Dunbar castle was under siege and is the only reason this remains a Scottish town.
Gael Curran, Event Organiser, said "I feel that it is important to remember this incredible feat and honour her brave and unyielding spirit with an annual celebration of Black Agnes and the women in our community today who make life in Dunbar better."